Details about us and the creation process
"Nature always inspires me...and traveling is certainly an awesome source of inspiration material and personal experiences."
Every single ANNY STERN piece is created infused with feelings, personality, and good vibes. 
Learn more about ANNY STERN Jewelry
Paradise Collection
NATURE INSPIRED
A Whimsical, Colorful & Magical
Mystic Allure Collection
GOOD VIBES
POWERFUL ENERGY
DIVINE PROTECTION
"Amazing things happen when you surround yourself with positivity."
Gemstone Power Collection
"You know the world is a magical place when Mother Nature grows her own jewelry..."
Gold Seduction Collection
"Jewelry is like the perfect spice, it always complements what is already there."
It was nearly 15 years ago when a very dear friend gave me the most beautiful piece of jewelry I had seen at that time in my life. Once I learned who the artist was I became a devoted customer. To this day I still wear that first piece and it's still as beautiful as the day I received it! Anny's quality and craftsmanship is beyond superb. The love she has for her art is incredibly evident in every piece she produces. I will forever be a devoted customer of Anny Stern Jewelry and look forward to her latest and greatest every year!!
I've known Ms. Stern, Anny, for 18 years and spent over 40 years in the jewelry world. 20 years with Neiman Marcus and 14 with Saks Fifth Avenue and a few scattered about. Anny has always supplied jewelry with cutting edge style and such great color in stone choice that it just makes you feel good to put it on. Often a lady will put an item on then take it off....put it on .....then take it off again, you won't see that in Anny Stern's line, she makes the wearable line.
Had the extreme pleasure of bringing Anny Stern Jewelry into the Saks Fifth Ave store in Sarasota FL. Her designs allowed our fashion jewelry department to thrive due to the uniqueness and quality. Overall one of our best fashion designers we featured and worked with! Over the years it has been a pleasure to remain friends with Anny and see her jewelry line thrive! Congrats and continued success!
Beautiful piece at temporarily reduced prices
Take advantage of this special offers, as they are for limited time and/or valid until inventory is available
ANNY STERN on VOGUE
"Create your own style...let it be unique for yourself and yet identifiable for others,"
Anna Wintour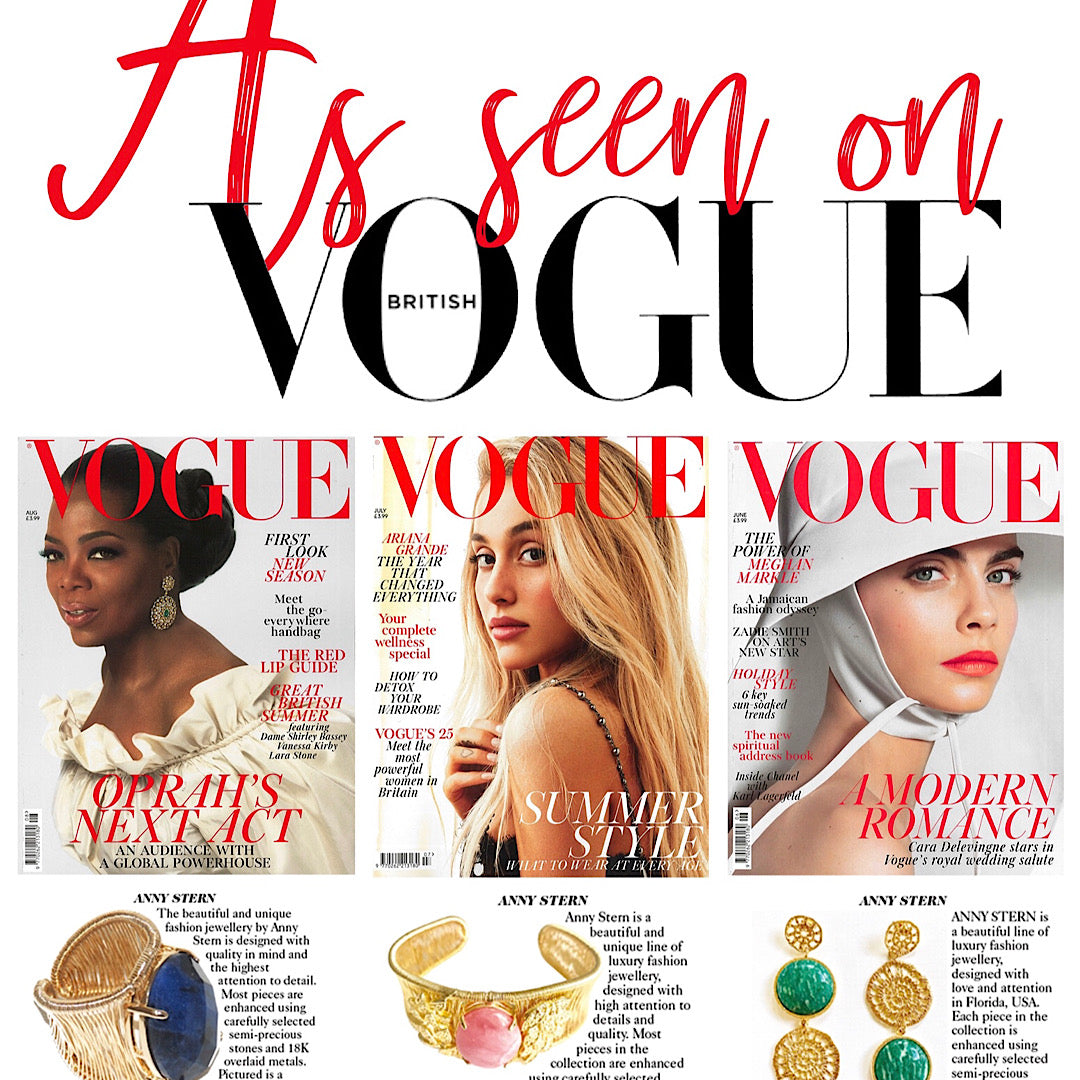 Learn more about our response to COVID-19